The origins
Can Domingo Restaurant
Can Domingo is the culmination of a dream. Conceived and created by three friends whose passion for excellent food, superb wines, efficient, friendly service and a love for Ibiza has created one of the most beautiful and relaxing dining experiences on the Island.
A summer breeze sends the scent of wild flowers through the windows of the dining room; tables sit nestled amongst the gardens and terraces, under a canopy of mature olive and fruit trees. The menu presents a true Italian sensibility, contemporary fine dining with a touch of tradition, reflecting the abundance of high quality local produce and the providence of the Can Domingo organic garden.
The heart of the restaurant started with a shared dream of an island within an island, an oasis that is tranquil, relaxed, discreet. Can Domingo is like coming home.
People are the most important thing
Our Team
Can Domingo owners Andrea, Alessandro and Giuseppe met in Ibiza via a mutual friend, sharing a passion for gastronomy and a dream to create a unique dining experience on this magical island.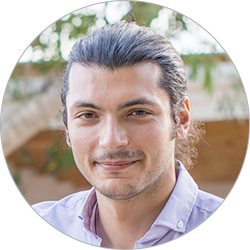 Front of house
Andrea Sanarica
Born in Bergamo near Milan, Andrea studied language and communications, plus marketing and management. Global career opportunities led him to Australia, Shanghai and London, where he worked in hospitality, learning his trade by working every job from dish washing to restaurant management, from five-star hotels to catering companies. Enjoying good food and wine with family and friends is the thing he loves most in life.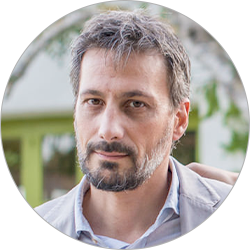 Administrator, Host, Wine consultant
Alessandro Barni Spadacini
Alessandro grew up in Milan and studied economics, becoming a tax advisor. Having always held a dream of living and opening a restaurant in Ibiza since his first holiday at the age of 19, in 2011 he and his wife took the leap and relocated to pursue their ideal of creating a different kind of life for their family. For Alessandro, food is about family and connection.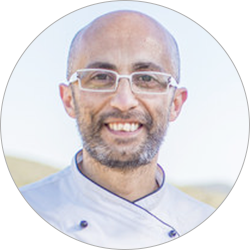 Chef
Giuseppe Vivacqua
Growing up in Turin in a family with roots in the southern Italian province of Calabria, Giuseppe was raised on a mix of two very different cuisines. His culinary odyssey has seen him work in some of the finest restaurants in Italy, landing in Ibiza 14 years ago. When not in the kitchen or tending the Can Domingo garden, Beppe is walking the forests of Ibiza, perusing his library of cookbooks and thinking, always, about food.