Three live evenings for the entire summer
Live Music
Three live evenings at Can Domingo Restaurant for the entire summer!
Throughout July and August, starting at 9:30 pm, for 3 nights a week it will be possible to taste the refined Can Domingo cuisine or the delicious Street food by Mimì Pizza Bistrot, listening to live music.
The rhythm & blues, funk, world music and jazz of the trio of Muriel Grossmann, a dj set played by the dj, producer, promoter, Sylvia Operè and a third evening dedicated to a mixture of acoustic instruments, analog synths and looping mechanisms.
Tuesday
Performer: Muriel Grossmann trio – musical genre: "Spiritual Jazz"

Wednesday
Performer: Silvia Operè – musical genre: "Dj set"
Saturday
Performer: Juno – musical genre "experimental soundscapes"
Muriel Grossmann
Muriel Grossmann band leader of the "Muriel Grossmann trio", which will play every Tuesday from 9.30 , defines her music as Spiritual Jazz. The artist has played in different bands until 2002, when she started to lead her own bands for recordings and concerts.
Sylvia Operè
DJ, producer, promoter and broadcaster of "Looking after you", Sylvia Operè, has been nominated several times for the Best Female Artist Fem by Vicious Music Awards. She will play her music every Wednesday  from 9.30 / 10.00 till late. Find you dancing feet and expect to be there until the very end!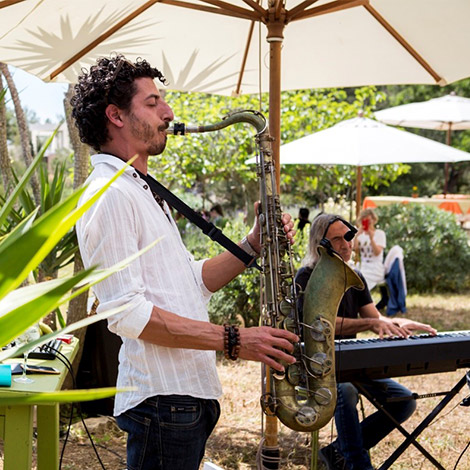 Juno
Saturday from 9.30 will be instead be the evening of the two eclectic musicians, Fabio Capelli and Francesco Calcante of the duo Juno. Their music is a brew of acoustic instruments, analogue synths and looping mechanisms.